Have you ever wondered if your land is a prime location for a Marcellus Well site?  How close to your home or land will a site be located?  Why not check for yourself if any of these permits that have been issued will effect your residence.
This site includes several layers of information and data that you may find interesting.  It not only provides new permitting information but includes Existing Horizontal Well Permits, Marcellus Wells, All Other Formations, Oil and Gas Permits by Permit Type, Other Types of Permits, Horizontal Wells, Horizontal 6A Well, Coal-bed Methane (all types), New Wells, Drilling deeper existing wells, Fracturing (all types), Re-Drill/Re-Work, Plugging Wells (all types), Horizontal laterals (simplified) and Other Oil and Gas Wells.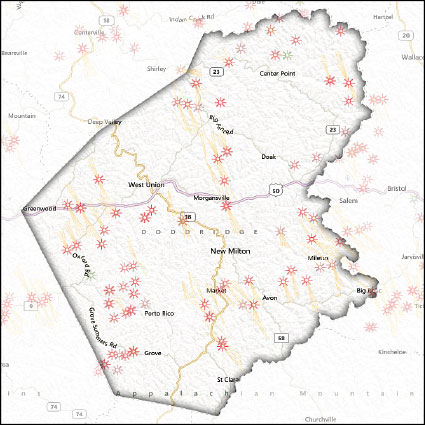 Map indicates current Marcellus Permits and existing Marcellus & Horizontal Wells
Layers and data can be clicked off and on through the menu located on the top right portion of the site.  You can view the map as a Bing street map, a Bing aerial map, a topographical map or a simple hill- shade view.  These can help you visually in locating your property or seeing where and how close to creeks and streams.
Other options include aerial views from satellite photos from 1996, 2003, 2007, 2009 and 2011.  By default the view selected is the most current satellite picture.  Several other options views by permit type, by well status, well permits received in the past 60 days and other oil and gas wells.  You can view horizontal wells and laterals although the laterals will show up as a simplified drawing.
One of the most interesting views shows a colorized layer simulating the density of the Marcellus Shale Gas layer.  You will see the increase in drilling density around these "pockets" of shale gas.  Doddridge county sets on top of a very large pocket that almost encompasses the entire county.
The map to the left shows current Marcellus permits and Marcellus Wells with horizontal drilling (yellow lines).  The circular overlay indicated a high density Marcellus gas and oil pocket.  For a more accurate density map, visit the WVDEP website
The West Virginia Department of Environmental Protection (WVDEP) makes Oil and gas permit information and production data available to the general public through their internet site free of charge.  This service is available at:  http://tagis.dep.wv.gov/oog/ 
These oil and gas related data are originated from the information reported to the Office of Oil and Gas at WVDEP by West Virginia oil and gas operators. This site is for general location and not to be used for any legal or engineering purposes.  The WVDEP does not guarantee accuracy, precision, or completeness.